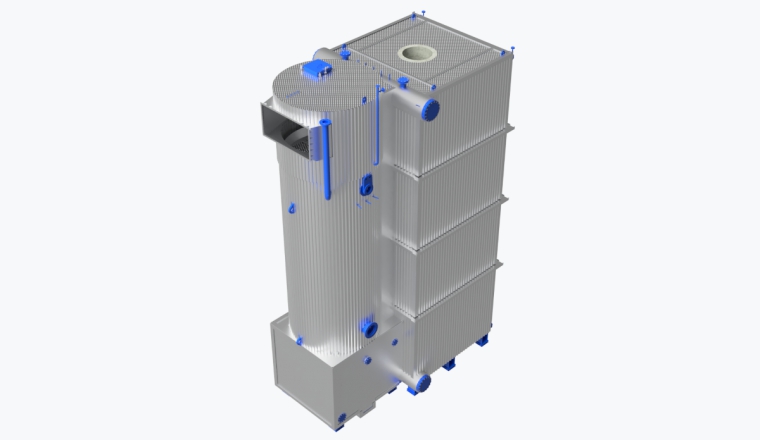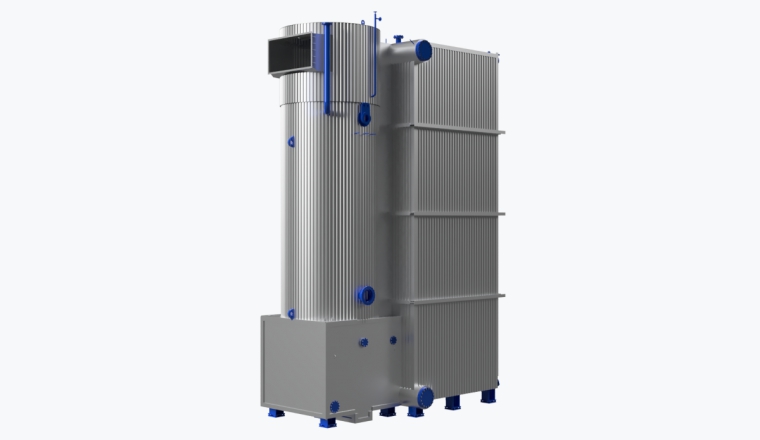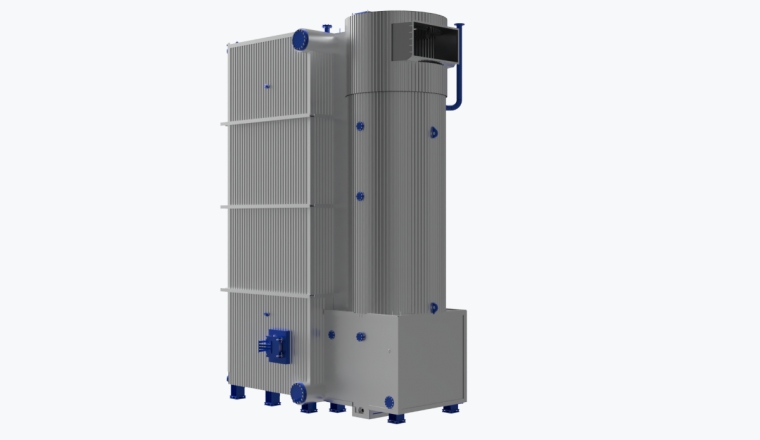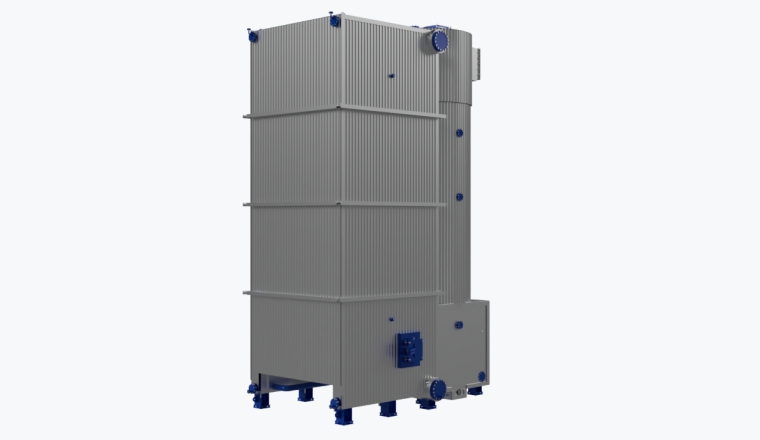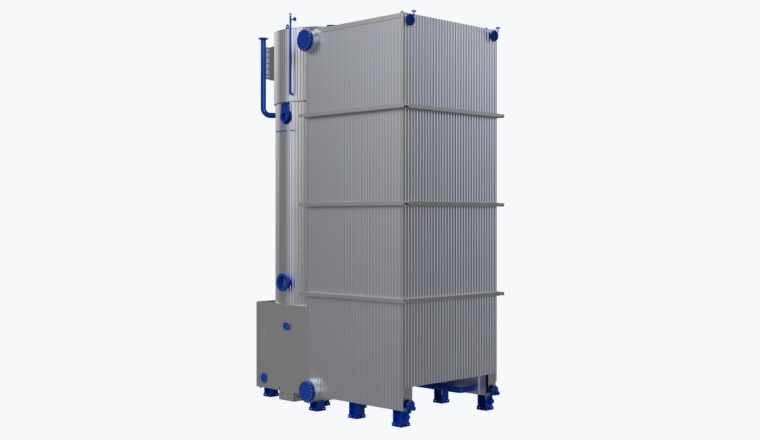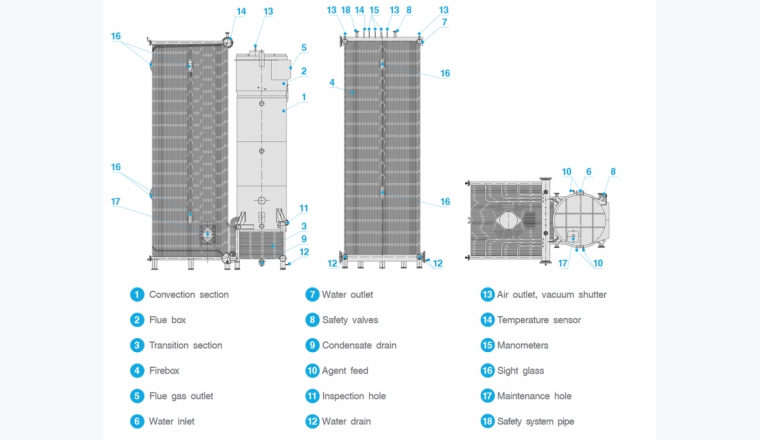 HOT-WATER BOILER ТТ300
ENTROPIE TT300 is a water-tube industrial hot water boiler. The boiler can be manufactured in the power range from 20 MW to 80 MW. The boiler is designed to produce hot water with a maximum temperature of 170°C and a maximum excess working pressure of 16 bar.
< 80 000

kW

16

bar

170

°C
Operation
Efficiency
Manufacturability
Wide capacity range for small energy tasks. Heat capacity of boilers from 20 000 to 80 000 kW;
Wide range of possible configurations. In full and partial configuration all boilers are equipped with automatic control systems ENTROMATIC 301 or 300M series, all necessary sensors and safety devices, which makes the operation of the boiler reliable and safe;
100% gas tightness. All elements of the boiler are sealed on the gas side. Installation of the smoke pump is not required;
Design flexibility. When you make the order it is possible to choose the right-hand design or left-hand design, the angle of rotation of the flue gas outlet pipe when ordering. It will allow you to install the boiler in any boiler room;
Easy maintenance. The boiler has hatches for access to the internal heat exchange surfaces for their maintenance. The gas-tube heat exchanger is equipped with a spray system for chemical cleaning of the internal surfaces of smoke pipes.
Versatility of the burner tuyeres design. The boiler tuyeres can have any desired geometry, any opening angle, any diameter of the embrasure, which makes the boiler compatible with any burner device;
100% readiness for assembling during installation. Absolutely every boiler is subjected to a final control assembly of all elements according to your design. For this purpose we have built a special assembling workshop that is 23.1 meters height;
Compensation for thermal expansion. The boiler in its design has sliding supports, which eliminates the stress from the resulting linear and angular movements of boiler parts and elements;
Replace your old boiler. You can install our boiler in any boiler room that is suitable in size and use transition frames and flexibility of our boiler design;
Compatibility with various types of burner devices. Correct operation of automatic multi-stage and modulating burners;
Maximum values of operational efficiency among boilers of this type.
The mixed design type combines the advantages of water tube and smoke tube boilers;
Intensive convective heat exchange. Flue gas flow turbulators are installed in the heat-exchanger smoke pipes. The turbulators are made of heat-resistant high-alloy steel and have a long service life;
Intense radiant heat exchange. A large surface area of the furnace walls, made of gas-tight tube panels, effectively receives the radiation of the fire torch deployed in the volume of the furnace space;
Large volume of water. The boiler has a huge accumulating capacity which leads to less intensive operation of the burner device and as a result a large fuel economy;
High-quality thermal insulation. Mineral wool mats with low values of thermal conductivity coefficients are used for thermal insulation of the boiler body. This minimizes the loss of energy to the environment through the boiler shell.
Packaged Boiler decision. Complete boiler configuration including the burner unit, automatic control unit, power distribution cabinets, all necessary sensors and safety devices, piping, and pump modules. This solution allows you to get a fully operational boiler without additional costs for accessories and installation. This is economically feasible and guarantees the correct selection of all components.
High-quality sheet metal and tube rolled products. Metal sheets and pipes produced by leading metallurgical plants are used for the production of thermal engineering boilers. All materials pass the entrance control for compliance of physical properties and chemical composition with the declared steel grades selected based on strength calculations for each boiler size.
Multi-level quality control at all stages of production. The certified laboratory performs non- destructive and visual measurement control in accordance with the requirements of the control card for each product.
Mandatory hydraulic testing. Each product is subjected to hydraulic tests at the final stage of production.
Maximum automation of the manufacturing process. Automatic welding is used in manufacturing. All workplaces are equipped with all the necessary inventory and equipment, which positively affects the accurate assembly of products and high-quality treatment of the edges of the welded parts.