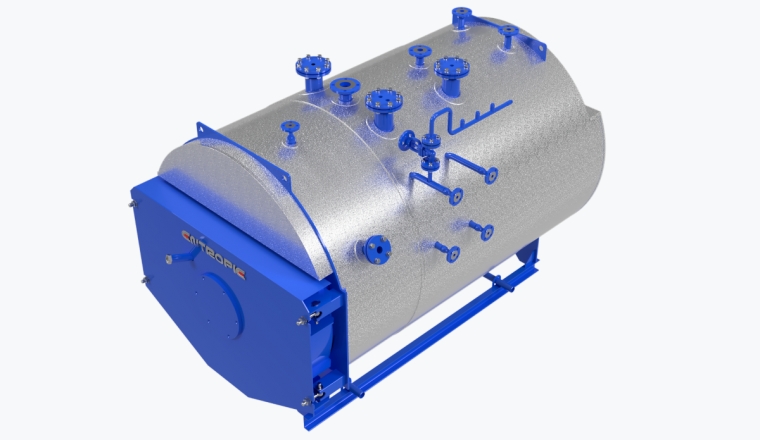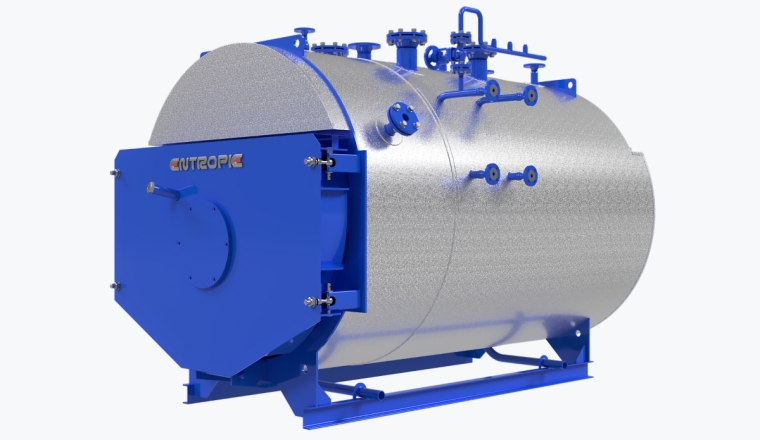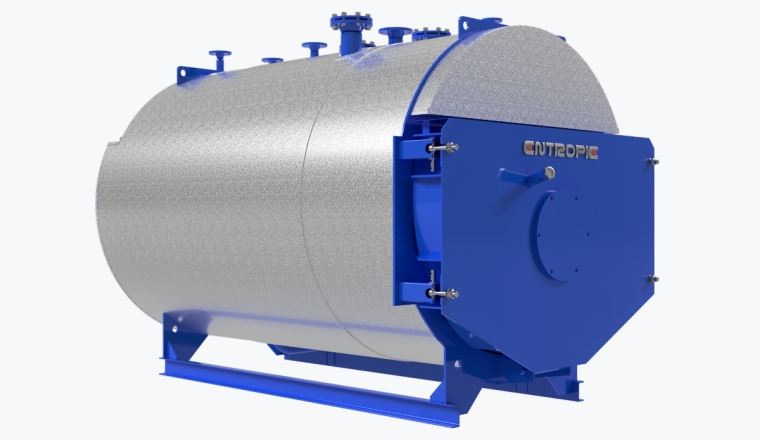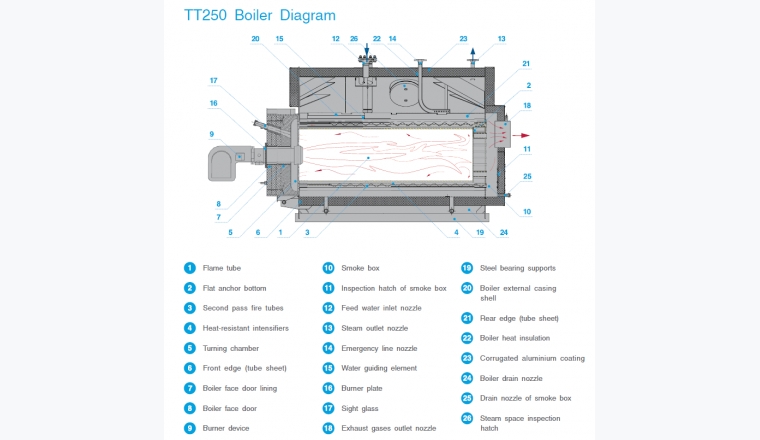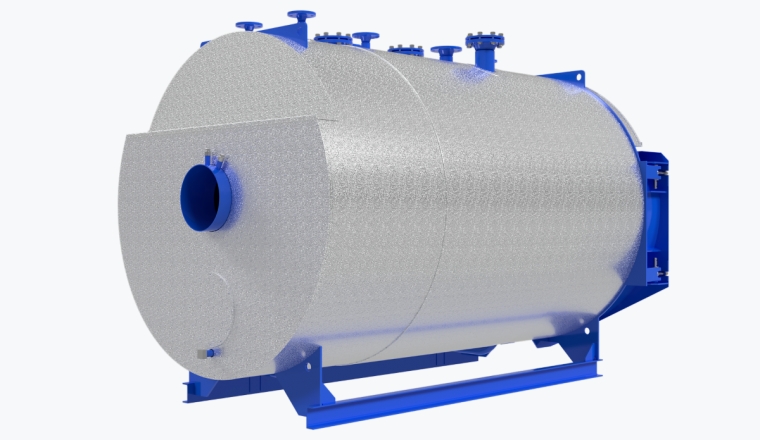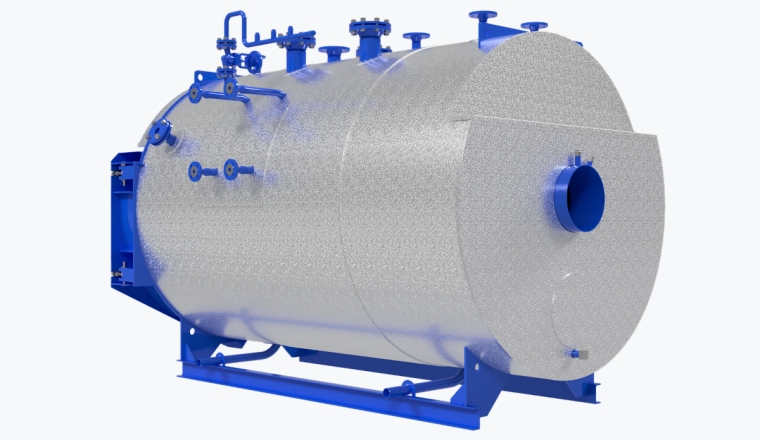 ENTROPIE TT250 12 bar
ENTROPIE TT250 are steel two-pass shell-type steam boilers with a steam production capacity of 500–3,000 kg/h. They generate saturated steam with a pressure of 0.8 MPa or 1.2 MPa. Both liquid and gaseous hydrocarbon fuels are used for operation.
< 3 000

kg/h

12

bar

191

°C
Operation
Performance
Producibility
Сertificates
Wide range of outputs for solving any problems. Steam-generating capacity 0.5 t/h to 3 t/h;
Wide range of possible configurations. In full and partial configurations, the boilers are equipped with ENTROMATIC series EBC 501.10 automatic control and monitoring systems, a simplified EBC 503 (up to 5 t/h) or the newest EBC 701, as well as all the necessary sensors and safety devices that make operation of the boiler reliable and safe;
Versatile front door design. The unique design of hinge assemblies allows you to select the opening direction as left/right;
Burner mounting using a burner plate or extension flange. This solution enables installation of the burner device of any manufacturer. Long and short burner heads are no longer a problem;
Full opening of the front door with the burner device. Routine maintenance and cleaning of heat exchange surfaces do not require dismounting the burner. The front tube sheet, the inside of the flame tube and the flue tubes are fully accessible for inspection and cleaning;
Symmetrical arrangement of flue tubes. Inspection holes can be placed not only in the upper part of boiler, but also in the bottom part. This makes it possible to inspect and clean the blind zone – the space under the flame tube;
Solid foundation. The base design is made of steel channels. The boiler does not require the design or manufacture of a special foundation. The weight load from the boiler filled with water is uniformly distributed over the bearing area. The boiler does not require any additional fixing to the embedded elements of the base when installed in stationary boiler rooms;
Compatibility with various types of burners. Correct work with automatic multistage and modulated burners;
Maximum values of operating efficiency among boilers of this class.
Intense convective heat transfer. Flue gas flow turbulators are installed in the second feed flue tubes. The turbulators are made of heat-resistant high-alloy steel and have a long service life;
Intense radiant heat transfer. A smooth-walled cylindrical flame tube is completely washed by a coolant. It allows maximum radiation of the flame to be accepted and the accepted heat to be transferred to the coolant;
The maximum area of effective heat exchange surfaces in modest dimensions;
High-quality heat insulation. Mineral mats with low values of thermal conductivity coefficients are used for heat insulation of the boiler body. This minimises energy loss to the environment through the boiler casing;
Boiler unit. A fully equipped boiler, including a burner device, automation module, electrical cabinets, all the necessary sensors and safety devices, piping, and a pump module. This solution provides a boiler that is completely ready for operation without additional costs for piping and installation. This is economically advisable and guarantees the correct selection of constituent components.
High-quality rolled sheets and pipes. Sheets and pipes produced by leading Russian steel mills are used to manufacture boilers. All materials are subject to acceptance testing for compliance with the physical properties and chemical composition of the declared steel grades selected on the basis of strength calculations for each boiler size;
Multi-level quality control at all production stages. A certified laboratory performs non-destructive and visual measuring inspection in accordance with the requirements of the inspection card of each product;
Mandatory hydraulic tests. Each product is subjected to hydraulic testing at the final manufacturing stage;
Maximum automation of the manufacturing process. Automatic welding is used in the manufacture. The facility's workers are equipped with all the necessary equipment and accessories, which has a positive effect on correct assembly of products and high-quality preparation of the edges of the welded parts.
ТТ250 Konformitätszertifikat TR CU 032-2013
---
Similar products
Production of high-quality boilers and equipment for obtaining heat energy in the form of hot water and steam.